Why Effective Attribution Matters to Retail Marketers
Measurement is a hot topic in retail marketing and for good reason.
Like any other industry retail marketers need to work hard to demonstrate ROI and effectiveness of their efforts. But there is a concern that the focus is on what is easily measured versus what is accurately measured. And what is actually useful, in terms of linking spend to revenue and growth.
So, the race to improve the effectiveness of retail and ecommerce attribution is on. And it is being driven by a number of key factors that we explore in more depth below.
The sheer value of retail media spend demands effective measurement
At the most fundamental level effective marketing attribution matters for retailers due to the sheer scale of marketing budgets being invested in retail marketing.
Take Digital Ad spending for example. According to emarketer digital ad spend in the UK in 2020 totaled £15.08 billion.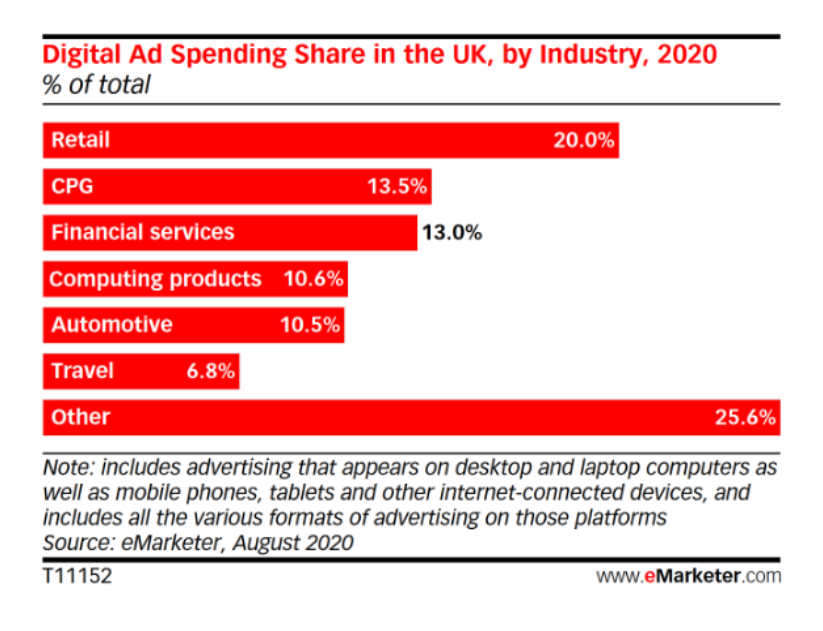 Emarketer states that the retail sector was the biggest digital ad spender in sectoral terms. In fact, the sector will account for one in every five of digital ad pounds spent.
And that is just digital. Many retailers are also heavily invested in using offline media to support and drive sales of their products.
So, getting an understanding of what they are getting for their investment is crucial to delivering true value for the companies and brands they represent.
The explosion in marketing channels and an increasingly complex customer journey
A new age of retail has emerged in the last decade. There have been dramatic shifts in the way that consumers research, find and buy retail products.
In fact, the customer journey is almost unrecognizable from the one of 10 years ago.
Consumers now flip between a wide array of devices that includes phones, tablets and laptops on their buying journey, and interact with a wide a range of touchpoints, different purchase paths and digital "nudges" that all partially influence their final buying decision.
The impact of social media channels has been unprecedented in this new world. For example, according to research by Visa, 1 in 4 online purchases are now made via an interaction with a social media platform. And shoppers are increasingly now navigating between channels more than ever before, flitting between offline and online interactions during a single purchase.
1 in 4 online purchases are now made via an interaction with a social media platform.
The challenge for retail marketers is effective attribution of the impact of their marketing activities on buying and conversion decisions.
And digital is only one part of what is an increasingly complex picture. Just as important is how retail marketers effectively attribute the impact of offline – which ranges from out of home to store based promotions
The need to cut out wasted ad spend is more pressing than ever
This is a priority for retail marketers at any time. However – despite the fact the current pandemic has created both retail winners and losers – this is perhaps even more of a priority for some retailers as the impact of reduced revenue feeds through into spend and budget decisions.
For example, as reported by econsultancy, one of the biggest UK retailers is posting a financial losses for the first time in decades and the recent IPA Bellwether report showed the biggest drop in marketing budgets for 20 years.
Whilst the pandemic is a clear factor in this, there is also the backdrop of radical changes that are taking place in the retail sector as competitive pressures, changing retail business models and the impact of rapidly shifting consumer preferences bite. And revenues are affected.
Advertising waste matters in this scenario – and its scale is huge. With the World Federation of Advertisers forecasting it will cost brands $50 billion by 2025.
Effective attribution is central to identifying it and rooting it out.
A real drive for actionable, real-time data that drives marketing results
Alongside this is pressure to find data to justify retail marketing decisions.
This was prevalent even before the more recent challenging retail environment. According to a recent survey by Digiday back in November 2019, marketers were under more pressure than ever to show their homework.
And to bring more effective data and actionable analysis to marketing decisions with more effective attribution at the heart of this approach – a situation that has only become more pressing due to recent events.
According to research by the Royal Mail a staggering 87% of UK retail purchases are made online and, in addition to a heavy reliance on digital, consumers are taking increasingly complex paths to purchase.
Carefully unravelling the impact of each touchpoint – both on and offline – is crucial for retailers and basic measurement approaches like last click attribution are still being used by many retailers, causing specific channels to be under or over-valued in the process.
87% of UK retail purchases are made online.
Couple this with the fact that many retailers are working with historical data – that is often week or months old – and you have a perfect storm in terms of potential misattribution.
Retail is a fast-moving business. To be successful retail marketers are waking up to the need for up-to-the-minute data on what creative, media selections and channels are – and aren't – working across the customer journey. And to do that you need an effective attribution solution.
Effective, AI driven attribution drives more revenue
So, improving the quality of attribution is a big step on the way to linking marketing activity and marketing outcomes. But data for data's sake isn't helpful. And beware of fancy retail marketing data reports that look great but actually tell you very little.
What is a retail gamechanger are real-time attribution dashboards that not only tell you the state of play across creatives, channels and the entire customer journey. But also what you should do with the findings to drive your marketing ROI.
Advances in machine learning technology and AI have made these types of attribution solutions a reality.
For example, using the capability in our own solution, Corvidae, we can rebuild, unify and effectively attribute customer data for retailers, such as:
B&Q store and digital data: we identified 1% of digital customers in a day were responsible for 15% of total business revenues over the next three days in the UK, all trackable and targetable by Corvidae
New Look: we uncovered that 50% of all revenues over the three-day period were generated by just 10% of visitors, proving that although retargeting is often overlooked, it can be responsible for significant revenue generation. And, in combination with real-time attribution data, can be used without cannibalising other spend channels.
This is the real power of effective attribution. Being able to drill down to marketing customer specifics and uncover data that is actionable. And that can highlight new media and revenue opportunities that can transform your retail marketing performance in real time. Not in 6 months.
Find out more about our attribution solution for retail and eCommerce. Or download our Beginner's Guide to Marketing Attribution below.
A Beginner's Guide to Marketing Attribution
Get attribution news and updates directly to your inbox