Oribi Alternative: How Does Corvidae's Independent Analytics Tool Stack Up?
Since LinkedIn announced the acquisition of independent marketing analytics company Oribi, the focus of much of the press coverage has been around the impact of the acquisition on LinkedIn itself, as it looks to build out its marketing platform capability.
But the deal also throws up some real issues around the availability of independent analytics solutions – not least for existing customers of the Israeli based provider, many of whom will be looking for Oribi alternatives.
In this blog, we take a look at some of the issues around analytics independence – and consider how the Corvidae provides a potential alternative solution.
Why might existing customers be looking for Oribi alternatives?
The news of Oribi's acquisition has been a trigger point for many existing Oribi customers to re-evaluate their choice of analytics package.
Under the terms of the deal, where LinkedIn is understood to have paid in the region of $80-90m, LinkedIn will integrate Oribi's technology into the core LinkedIn marketing solutions platform, which will enable their customers to better understand what channels and campaign messages are working for them.
For LinkedIn, the transaction would appear to make a lot of sense. In excess of 57 million businesses across the globe use LinkedIn Marketing solutions – including more than 24,000 virtual events a week. By adding Oribi's analytics capability into the mix will allow LinkedIn to build out their overall marketing platform capability.
But the purchase appears to signal an end of the independence of the Israel based analytics provider. Something that we know many customers value highly. Which would explain why existing customers are having to potentially look around for Oribi alternatives on the back of the news.
Why are these changes significant?
There are a host of reasons why the deal is significant but, in the context of our own analysis, there are two that really stick out.
Firstly, the move signals the intention by LinkedIn to continue to build out its marketing platform stack, with the focus for them on continuing to grow out their marketing services revenues which have grown 40% YOY. There are also suggestions that the move sets them up for direct competition with larger players like Google – as the Oribi product is competitive with Google's GA product.
Secondly, the loss of independence of Oribi is part of a wider issue. Essentially, the deal means the advertising industry loses an independent provider of analytics solutions, which is being subsumed by a much larger AdTech player.
As an independent provider of analytics capability ourselves, we feel passionately that this matters, and is part of a wider theme around independence that is important for the ad industry right now.
Why does independent, effective analytics and attribution matter?
We think there are three key reasons:
1. Existing analytics packages being declared not fit for purpose
It would be difficult to argue with the position that AdTech providers have suffered problems recently with issues that range from illegality of analytics solutions to wider privacy concerns.
Right at the head of the queue is the fact that Google Analytics was declared illegal in the EU in April 2022 due to non-compliance with GDPR regulation. That announcement sent Google scrambling for a quick response to the problem, which led to them announcing that Google Analytics Universal (their original GA solution) and GA 360 would be retired in June 2023. From this date onwards, all users would be forced across to its new GA4 product – with the added complication that there is no data portability between the solutions.
This comes as quite a considerable inconvenience for long term users of Google Analytics, many of whom have been forced re-valuate their analytics options and may well be considering independent analytics solutions for the first time.
2. Very real concerns over bias in AdTech analytics and reporting
Independent analytics solutions from companies like Oribi – and QueryClick – matter because our research shows that marketers are increasingly concerned about bias in AdTech channel reporting.
A startling 80% of marketers who took part in our Value of Attribution in UK retail survey indicated they were concerned about bias in AdTech Channel reporting from the likes of Google, Facebook and Amazon etc.
In fact, the majority of marketers are clearly unable to get their hands on the type of analytics they need, with 60% of respondents in the same survey indicating they also think that data to support cross-channel decision making is broken.
3. There is a need for analytics solutions that don't rely on third-party cookies
For as long as many of us care to remember, the fate and fortune of digital marketing has been inextricably linked with third-party cookies.
They have played a central role in the targeting, and retargeting, of campaigns and, to an extent, digital marketers have been 'tied in' in to one of the biggest AdTech vendors (Google) as a result.
But all of that is changing with Google's decision to signal the death of the third-party cookie – and it has left many marketers scouring the horizon for alternative targeting and analytics solutions.
Early indications are that cookie replacement solutions being proposed by Google including FloC and Topics are being received cautiously by the industry. In fact, it looks like Google might be parking FloC due to concerns around privacy.
So, as marketers give consideration to how they are going to survive – and effectively track and attribute marketing activity in a post-Cookie world, thoughts are also turning to solutions that don't rely on cookies for effective marketing attribution, and are independent of AdTech bias.
Solutions that instead employ leading edge Machine Learning and AI to create a clearer view of the entire customer journey and assess true incrementality.
An Oribi alternative for analytics: introducing Corvidae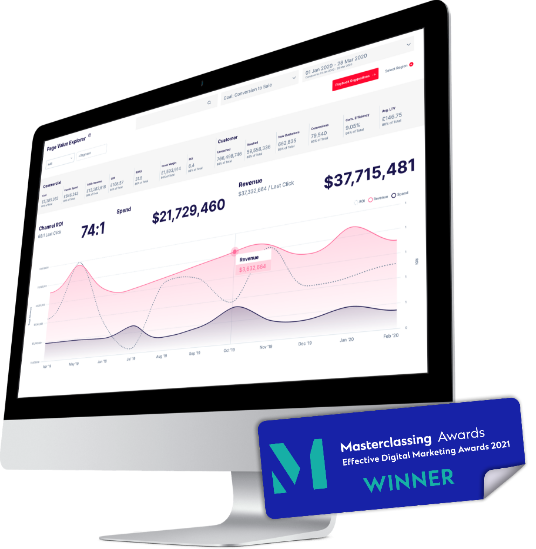 So, what exactly is Corvidae?
It is our own, AI driven, marketing analytics and attribution solution which is specifically designed to remove ineffective marketing spend and convert new customers for the lowest possible price by:
transforming your analytics data
helping you understand the entire customer journey
maximising ROI by effective re-allocation of budget spend to better performing activity
AI and Machine Learning do a more effective job than cookies
One of the key benefits of Corvidae is that it enables you to overcome the issues around the poor data quality that is inherent in industry standard analytics solutions like Google and Adobe Analytics.
In our experience of working with clients the raw data from these platforms is consistently around 80% incorrect which has a huge bearing on the quality of your attribution.
Take Google data for instance. For a leading UK food and clothing retailer, we used Corvidae to take existing Google 360 data and effectively rebuild it. And adjust the level of attributable spend from £4.1m to £13.6m in the process.
How is that possible? In short, the third-party pixel plus cookie-based approach used by Google does a particularly poor job of unravelling complex customer journeys. Whereas Corvidae is able to deploy Machine Learning and AI, effectively in place of cookies, which do a much more effective job of identifying incrementality.
Break free of the restrictions of siloed channel reporting and AdTech bias
One of the standout stats in a recent piece of research by QueryClick was the fact that over 80% of marketers indicated that they are concerned about bias in AdTech channel reporting from the likes of Google, Facebook, Amazon etc.
The main concern? That AdTech players and channels like search, paid social and programmatic are effectively marking their own homework. Applying a very channel specific "lens" that, unfortunately, leads to over-reporting on media effectiveness and over-valuing contribution to revenue and ROI.
That is where an independent analytics solution like Corvidae comes into its own.
In the example below, we can see how QueryClick was able to use Corvidae to unravel the true situation on paid social spend on Facebook for online clothing retailer QUIZ.
And the results drive home the value of having a fully independent view on Facebook channel spend by highlighting that:
Actual revenue from Facebook campaigns was 68% lower than being reported by the channel itself
34% of their Facebook ad spend was being wasted within certain Facebook campaigns – and by reallocating this, Quiz could drive an additional £1.6million of revenue for the same spend
Get access to actionable, independent analytics insights that you can trust
And your Facebook spend might just be the tip of the iceberg.
One of the challenges with analytics solutions is that they provide you with 'shiny' reports that look impressive but, in reality, tell you very little about the effectiveness of your marketing activity. Or stop well short of providing clear and actionable recommendations for improvement.
This is where a solution like Corvidae really comes into its own by delivering actionable insight that include optimization recommendations on spend and ROI – at a channel, creative, visit and individual level.
To learn more. Visit our website – or contact us to schedule a no-obligation demo.
Getting Started With Corvidae
Get attribution news and updates directly to your inbox